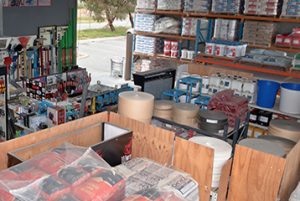 From the smallest wire ties to the sturdiest wall framing, Western Corp Hardware have hand-picked the best range of building supplies in Perth. Our customers include everyone from large commercial builders to DIY weekend warriors, so you can rest assured we can help you find the building materials for your needs at competitive prices.
Western Corp Hardware are a family owned hardware store with the buying power of a large supplier. We go above and beyond to ensure you always find what you're looking for – if you're after something a bit special and we don't stock it, we will go out of our way to order it in straight away.
Here are just some of the building materials you can find at Western Corp Hardware:
Various sized wire ties, expansion ties, and clips
Frame straps, hoop irons, and wall braces
Galvanised bracing rods and round bars
Weepa weep holes to protect your home from fires and vermin
Alcor aluminium flashing
Sturdy wall framing for Gyproc
Bricklaying sand from 1 to 12 metres cubed in truck loads and bulker bags
Blue metal for footings and paths
Mulch and gardening tools
Meter boxes
We can also deliver building supplies directly to your site or home, whether it's Perth, Rockingham, or one of the many surrounding suburbs. That's the Western Corp Hardware way – we will do everything we can to give you the best building materials at the best prices, delivered to your door so you can finish the job.
Give us a call if you are looking for something in particular and if we don't have it, we will order it in time for your next job.